Adverse Patient Reported Outcomes and postoperative Delirium - Reasons to make a change
Patients experience an unnecessarily high level of side effects associated with their anaesthesia and surgical treatment. These include nausea, severe pain, anxiety, stress, reduced general well-being and others. Furthermore, many patients develop cerebral dysfunctions postoperatively, such as postoperative Delirium (POD). POD is a severe complication with an incidence rate of up to 50% starting in the recovery room. It is associated with several deleterious clinical consequences such as short and long-term cognitive morbidity, increased short and long-term mortality, reduced quality of life and tremendous in-hospital and out-of-hospital costs. 
However, clinicians and administrative staff are not provided systematic feedback on basic patient-reported outcomes (PROs) and cerebral complications such as postoperative delirium (POD). As a result, the very basic cause-and-effect learning necessary to reduce such side effects is lacking. Furthermore, this created a significant barrier to recognizing the need and value of patient-centred precision care, quality improvement, and value-based healthcare in general.
Using a systematic approach, Safe Brain Initiative will help to collect and analyze real-world healthcare outcomes data to monitor, visualize, and improve essential preventive routine care and patient-reported outcomes. This initiative aims to strengthen the perioperative healthcare system while concentrating on specific areas. The applied focus of the Safe Brain Initiative can be subdivided into three main areas: 
   -SBI core: achieving and visualizing best Patient Reported Outcomes (PROs),
   -SBI muda: achieving and visualizing effective Patient-centered OR management and
   -SBI us: achieving and visualizing Patient and Staff satisfaction with the provided care
Source:
EUR J Anaesthesiolgy 2017 Apr;34(4):192-214. doi: 10.1097/EJA
Crit Care Med. 2018 Sep;46(9):e825-e873
Ger Med Sci 2015; 13: Doc19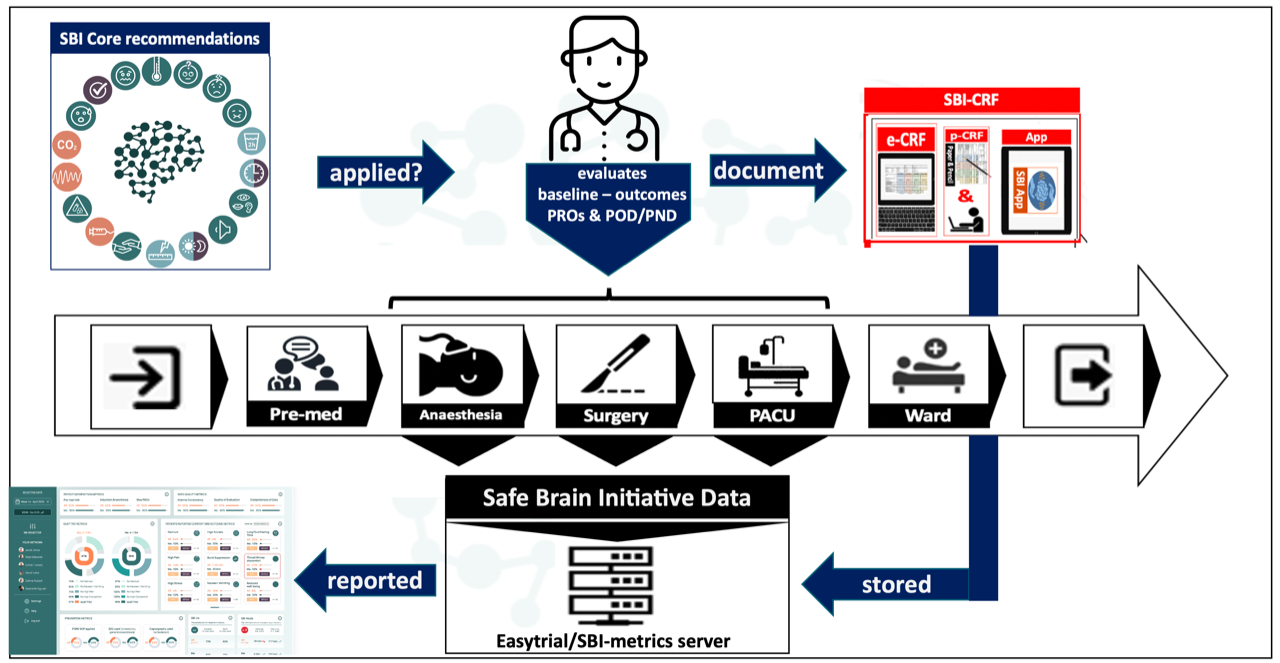 The Safe Brain Initiative Program
Health Disclaimer
The information provided by the Safe Brain Initiative on www.safebraininitiative.com is for general informational purposes only.
The information on the site is provided in good faith. However, we make no representation or warranty of any kind, express or implied regarding the accuracy, adequacy, validity, reliability, availability or completeness of any information on the site.
Your use of the site and your reliance on any information on the site is solely at your 
Own risk. The health information is provided for general informational and educational proposes only, and is not a substitute for professional health advice.
Accordingly, before taking any actions based upon such information, we encourage you to consult with the appropriate medical and healthcare professionals.
We do not provide any kind of health advice. The use or reliance of any information contained on this site is at your own risk.